Classic car-season opening 2021
The winter isn't over yet, but as we all know sometimes things cannot go fast enough when our classic should be all set for the most beautiful season of the year: the season of classic cars.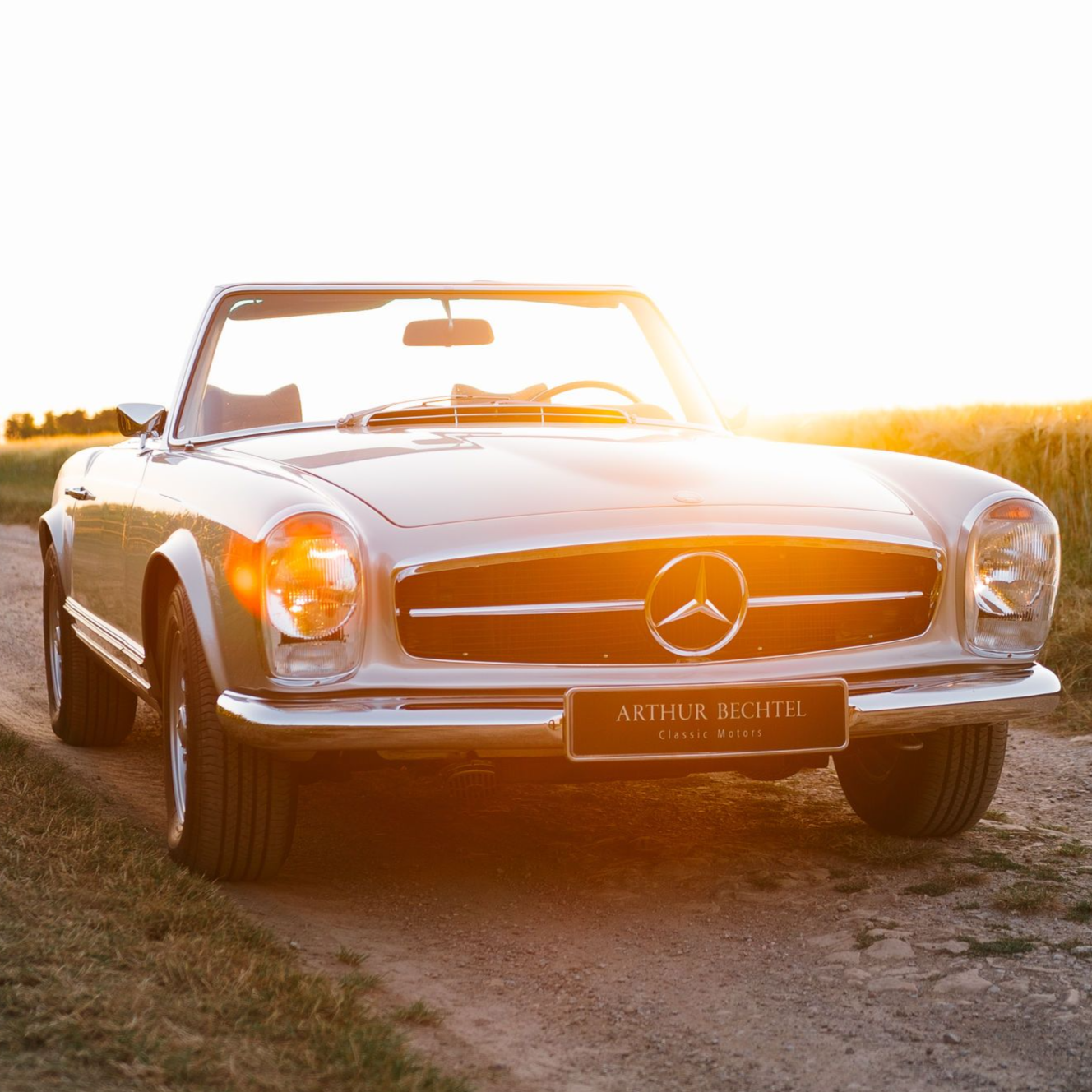 Dear customers and friends, 
aren't we all excited about the first drive with our classic car each year? To ensure your classic car is prepared our team is working at full speed to provide you with the best service.
We would like to use this opportunity to offer you a full Pre-Season-Vehicle-Check according to manufacturer specification with an exclusive standard. We know what it takes to get your classic car ready for warm and sunny days! The team of our workshop is pleased to perform all necessary works and advise on proper maintenance:
Pre-Season-Vehicle-Check for your classic car
1. Customer service:
Renewing engine and transmission oil
Classic car owners often ask themselves the question: which oil is the right one for my classic car? It is known that oil is necessary for every combustion engine, but not every engine can be treated equally, as different engines have different demands on the lubricant. The team of our classic car workshop in Althengstett renews the engine and transmission oil exactly according to the requirements of your classic car and will be happy to advise you on this.
The renewal of the oil filter is always accompanied by the change of the engine oil. Thanks to the high-quality fine filters, the lubricants are cleaned in order to keep the engine of your classic car alive. The oil filters we use offer permanent protection against micro-fine dirt and harmful sludge particles, as well as against acid-aggressive water in the oil.
Checking the brake-system incl. renewing the brake fluid
When driving your classic car, the brakes are of course also important. In the course of the check of the brake-system, our workshop team also renews the brake fluid in your classic car.
Checking the entire chassis
Although classic automobiles are driven very carefully and cautiously, it happens also from time to time that they are exposed to poor road conditions, such as potholes, and this particularly could have an impact on the chassis. During our pre-season-vehicle-check our team will also check the entire chassis of your classic car.
"Greasing" is also an important measure to keep your classic car in good condition and is taken over by the team of our specialist workshop in Althengstett.
Checking the condition of the battery
It has certainly happened to many of us: After the winter or a long break in which our classic car was in the garage for some time, you finally want to take a drive again and then the battery plays a trick on you. Therefore, the battery of your classic car will also be checked during our pre-season-vehicle check.
Extensive inspection of the overall technical condition
In addition to the previous checks of the individual vehicle components, the team of our workshop in Althengstett also takes a look at the overall technical condition of your vehicle.
2. Underbody preservation with transparent wax
The underbody in particular is constantly exposed to great stress and therefore it is treated with the right care by our team. The underbody of your classic car will be preserved with transparent wax.
3. Professional cleaning
In addition to the leather care and the cleaning of the interior, our team will also wash the exterior of your classic car by hand.
4. Professional detailing free of charge
---
Now: 1.450,00 EURO incl. VAT*
(*valid until 31st of March 2021.)
---
---
Our team for you.
Experience. Expertise. Passion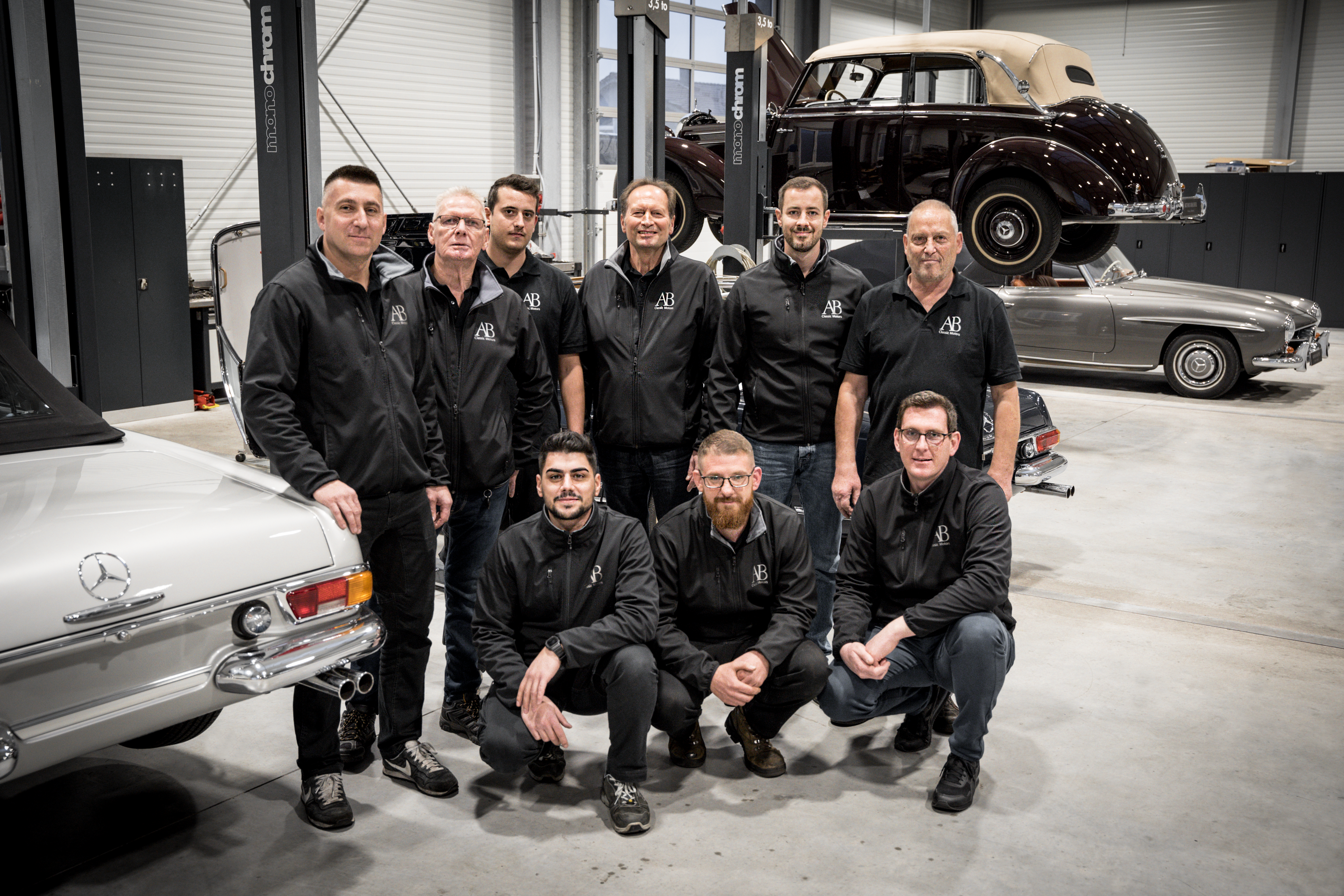 These are the elementary components of our specialist workshop for classic cars. It reflects our 40 plus year of experience in the repair and maintenance of classic automobiles and at the same time completes our range of services with the highest level of expertise. We are pleased to be offering exclusive and the best service on more than 600 square meters within our Arthur Bechtel Classic Motors-service branch in Althengstett.
Request a pre-season-vehicle check now.
You are interested in a pre-season-vehicle-check for your classic car? We are pleased to provide you with all information on this offer and for sure about the whole range of services of our workshop. If you desire a direct, non-binding consultation, feel free to contact us at any time via Instagram, WhatsApp, by e-Mail (info@arthur-bechtel.com) or by phone (+49 7031 3069522).