Mike Patrician has been a car lover since his teenage years. The posters that once adorned his children's room have been exchanged for timelessly beautiful vintage cars over the years. Mike loves the SL series and lives up to his passion with his collection. We were honored when Mike agreed to share his story with us and our readers.
Mercedes-Benz 190 SL – White Gray / Leather Tan – Produced in 1960

Mercedes-Benz 300 SL – White Gray / Leather Blue – Produced in 1956
---

Dear Mike, it marks two years now since you bought your first vintage car from us. Are you still happy about your choice?
I am happier today than the day of the deliveries. As I compare the two Bechtel SLs with other owners' non-Bechtel cars, I made the correct choices. My advice to potential buyers of a classic, seek the best. I consider the best to be Bechtel.
Thats wonderful. Thank you, Mike! We have spoken about your passion for the SL-Series many times. Would you like to share what sparked the desires of a Mercedes-Benz 190 SL and its big brother Mercedes-Benz 300 SL in you?
Absolutely! I have admired Mercedes-Benzes since I was a teen. I had a poster of a 450 SL on the wall while I was in school. "One day, I would own a SL." I ordered my first SL in late 1985 and took delivery of a Diamond Blue/ Blue/Blue 1986 560 SL on March 1, 1986.   I still own the 1986, it has a total of 272 miles.
My next SL purchase was a 1990 R 129 SL 500 White/Blue/Blue. I discovered that the R 129 would be soon available with a V12, I immediately ordered a White/Blue/Blue V12 600 SL. I sold the 1990 500 SL, the only SL I ever sold.   I took delivery of the 600 SL on December 1, 1992.   The 600 SL has a total of 53 miles.   I went on to purchase a 2011 SL 65 and then a 2015 SL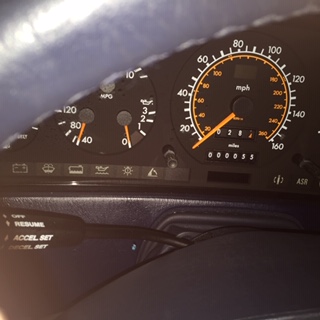 Now that is already a great selection! As you approached us we got a feeling there's still a few members missing which would complete your SL-Family.
I often thought about getting the ultimate SL – a Gullwing! As a interim compromise in 2015, I bought a 1 owner California car, a white 1967 250 SL with 22K miles.   In 2016 I stumbled across a well restored (the restoration was supervised by an engineer) White 1968 250SL that I couldn't resist.  I was missing a 190 SL and that 300 SL...that needed to be corrected. I decided to acquire a 190 SL. I wanted a car that was as close to "factory original" and numbers matching as possible.  I looked at several and none passed my "factory original" standard.  I contacted Bruce Adams, a USA based 190SL expert.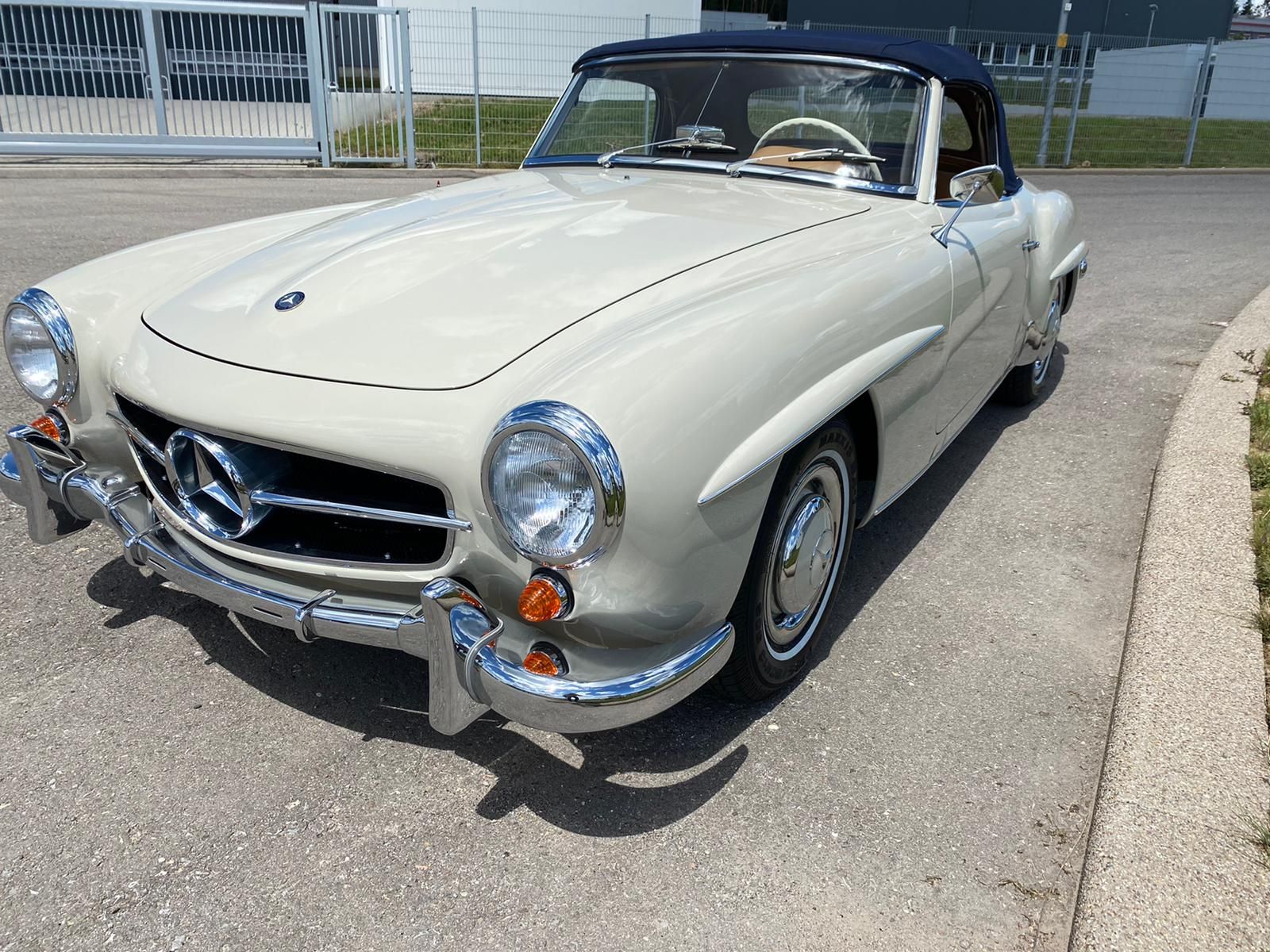 Mike's Mercedes-Benz 190 SL Roadster
I met Bruce several times at MBCA events and actually took a couple of 190 SL based seminars.  Bruce had an excellent reputation as a restorer of 190 SLs. Bruce had recently retired and suggested that  Arthur Bechtel Classic Motors may be the answer to my tough standards.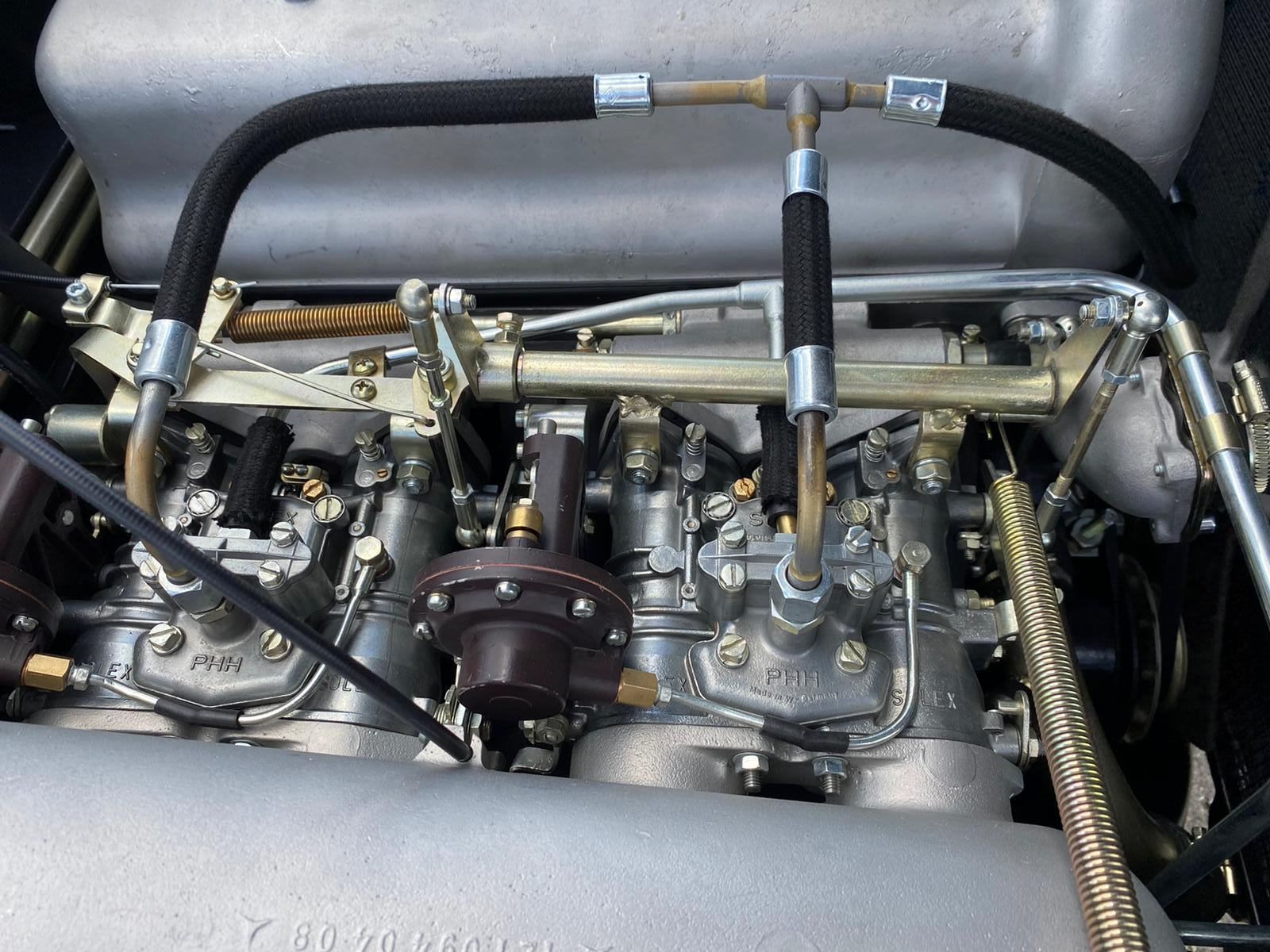 Mercecedes-Benz 190 SL W121 B II Engine
That was when I contacted your company and spoke with your CEO, Tim Bechtel.  I explained I was interested in a "factory original" full numbers matching 190 SL... White with a Blue, Gray or Tan interior. A few days later I got a call. Tim located a White/Tan 190 SL. The photos of the unrestored 190 illustrated a car in need of a full restoration. I remember it too well. Tim and I quickly and easily agreed on a deal.   I got a promise the car would be finished and arrive in the USA in under 8 months.  I periodically received photos of the restoration. The restoration process went incredibly well...and on schedule. Although you sent myriad photos as the restoration progressed, it's nearly impossible to really ascertain the true condition of the car. The car was containerized and arrived in Boston, July 2020. It was exciting to see the masterpiece unloaded from the enclosed transport truck. The photos did not accurately reflect the true condition – it was way better! The paint was flawless.   The interior was perfect. The engine compartment was pristine. The car far exceeded expectations. The engine purred. Everything worked and worked well... probably better than when it left the factory in 1960. My 2 sons, engineers and beyond picky, were amazed at the car's condition.
We are absolutely delighted you love your Mercedes-Benz 190 SL and that you enjoyed the whole process.  It did not take long until you decided its "big brother" had to move into your garage. :-)
That's right! The moment I inspected the 190 SL I was unquestionably sure I wanted a "Bechtel-300 SL". The quality of my newest vintage car was just impressive. I was looking for a White/Blue 300 SL, not a popular color exterior since most were Silver. Tim went looking for it and located it only a few days later. It was just my dream car: White/Blue. We made another deal in the matter of minutes.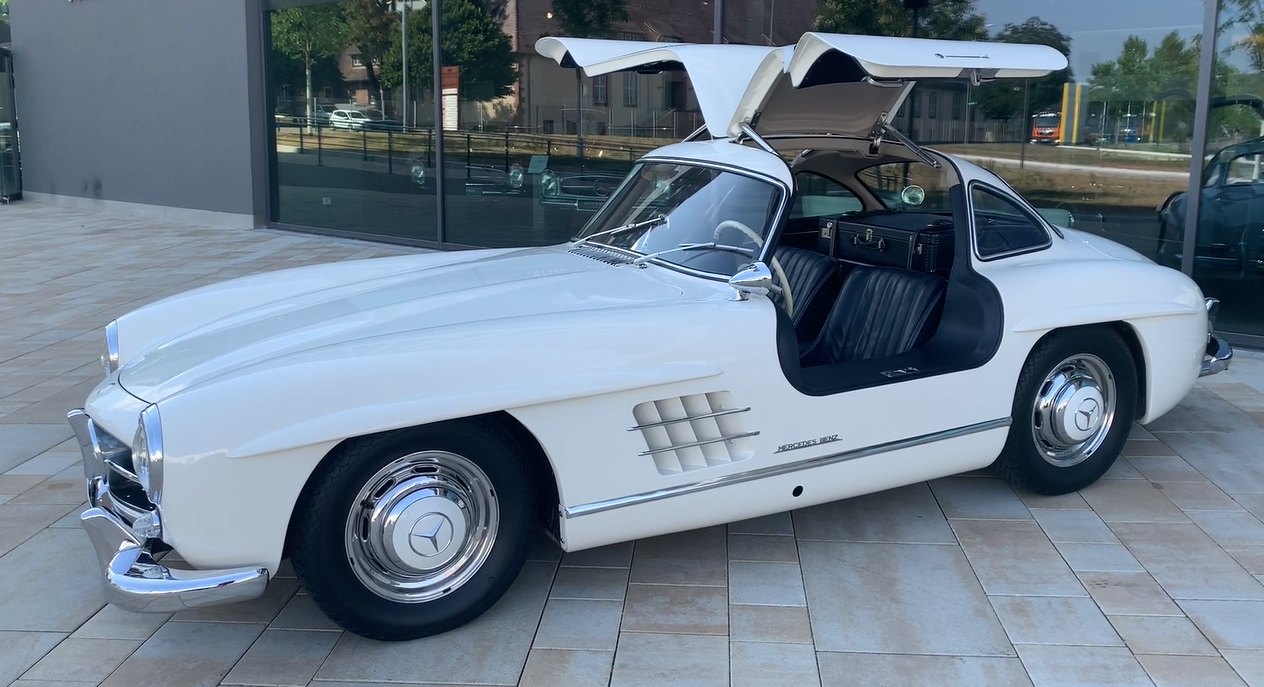 Mercedes-Benz 300 SL Gullwing in Böblingen prior to its delivery to the US
Would you share a photo of the "siblings" with our readers?
Of course. Something I woud not withhold from you! I took this picture  in May 2021 when the Gullwing arrived in Boston. The car was another Bechtel gem. The Gullwing's paint is perfect, the interior was lightly restored/detailed and looks like new, the dark blue leather contrasts well with the DB 50 White exterior, the engine starts easily and is so smooth, it matches the pristine engine compartment. I was sure the car would look good parked next to the 190 SL. See for yourself!
And by the way: Even after two years I am very happy with my choices. I just ordered another 190 SL in white and blue and am debating on another 300 SL...Let's see!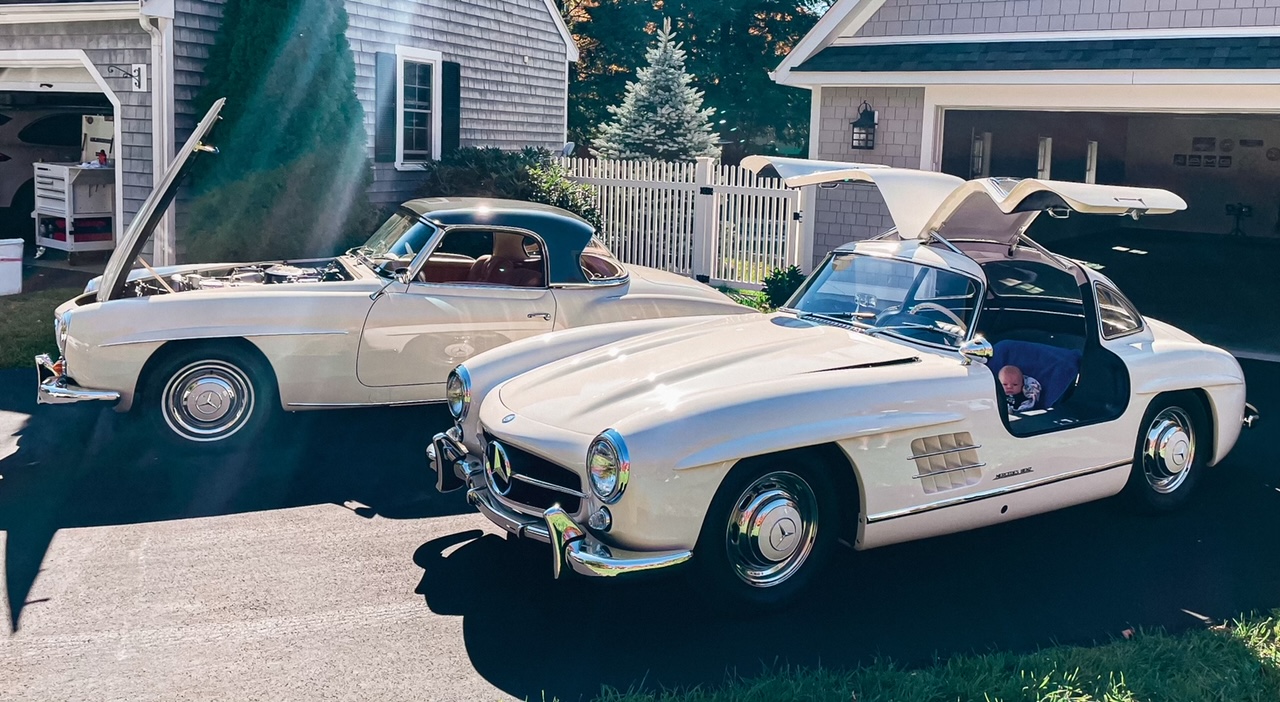 Mike, we are beyond grateful you can enjoy your vintage car selection and are so happy you would like to enlarge it. As an experienced owner and vintage car lover are there any recommendations you would like to give future owners of vintage cars? 
Allow me to return to the story of the 1967 250 SL. The older gentleman that only drove the car 22k miles had it repainted around 2010 due to  paint  cracks and crazing. The paint job was about a 5 on a scale of 10. I couldn't stand the average at best paint so I decided to get it properly  restored by a well regarded restoration shop in the USA. I estimated that this light restoration would cost about $30-40k.  This estimate was lightly off. I wanted that aforementioned factory look. The actual restoration was over $150k! The moral of the 1967 250 SL story is to buy your classic from an established expert restoration concern.  My USA based shop works on myriad brands of cars. Bechtel does mostly Mercedes-Benz and some Porsche.  Bechtel has restored over 200 190 SLs. The expertise required for a high end factory restoration requires substantial experience on that particular car. In retrospect it would have been cheaper to buy a 250 SL from Bechtel. Can one acquire a cheaper SL? Absolutely, but if one has high standards for quality just contract with Bechtel and save time and money.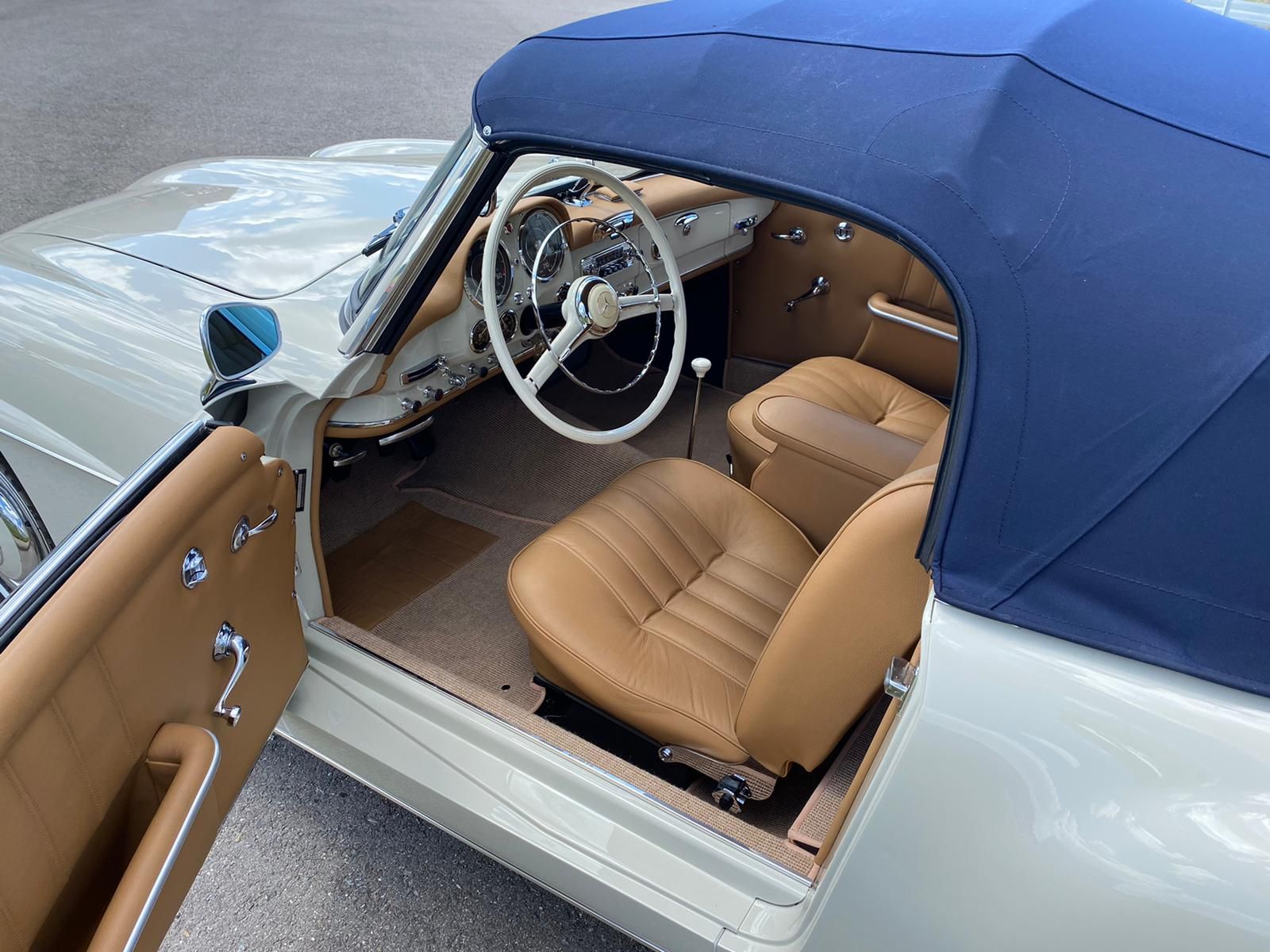 Mercedes-Benz 190 SL Interior
Thank you, Mike. We are very delighted you feel this way and appreciate your kind words very much.  One last question we ask all of our vintage-car-lovers: Is there something that you always have with you on your classic car trip (lucky charm, item of jewelery, item of clothing)? 
No. I travel light, not even a wallet.
It was our great pleasure to speak about your love for vintage-cars. We wish you wonderful times with your companions and many beautiful memories to come. All the best from Germany and see you soon!